PETROL STEEL CO., LTD is a professional supplier of ultra-high purity Semiconductor Valves.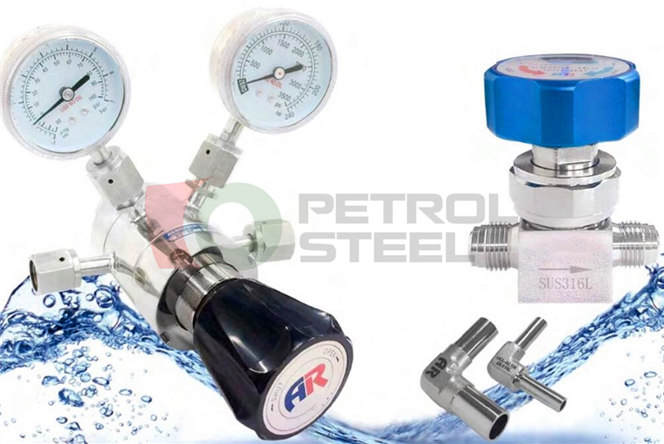 Semiconductor Valves, UHP Tied Diaphragm Low Pressure VCR, Piston-Type Back Pressure Valve, Back Pressure Regulator, Pressure Regulating Valves, UHP Semiconductor Components, Ultra High Purity Valves, Solenoid Valves, UHP Diaphragm Valves, Process Valves,Vacuum Pendulum Valve,Bellows Sealed Extended Bonnet Globe Valve, Electrically Controlled Valve
Operating Parameters
Inlet Pressure: 100-3500psi
Outlet Pressure: -25inHg~0~30psig, 30, 60, 100, 150 psi
Supply Pressure effect: 0.025psig / 0.075psig / 0.2psig / 0.4 psig / 1.3psig / 1.3psig / 2.5psig / 5psig / 7psig / 8psig / 100psig (B2H6/nF3)
Operating Pressure 100psig, 3000psig,
Burst Pressure: 3000psig, 9000psig
Operating Temperature: -10℃ - +60℃
Inboard Leakage: ≤1×10-10Pa.m3/sec.He
Outboard Leakage: ≤1×10-10Pa.m3/sec.He
Flow Coefficient(Cv): 0.1-0.35
Internal Surface Finish: ra≤0.1μm
Materials
Body: 316L/316L(VIm+VAr)
Diaphragm: Hastelloy C-22
Seat: PCTFe
Pneumatic Cctuator: 6061 6063
Product Features:
Suitable for ultrahigh-purity applications
Convoluted, nonperforated diaphragm.
Piston type,great reliability.
High repeatable accuracy.
Handle with bearing for adjusting smoothly.
Pure water washing for all parts.
Low-pressure and high-pressure models
Hastelloy C-22 diaphragm
Each valve is individually helium leakage tested
Optimal design for long cycle life (durability tested to 30000-50,000 cycles)
Compact size design
Customized size design
Headquarter: A-4F, Vantone Center, A6, Chaowai St., Chaoyang Dist., Beijing, China.
Tel/Fax: +86 10 8599 9168
Whatsapp/Wechat: 0086 159 0035 7871
Email: sales@petrolsteel.com, jackywinn@foxmail.com
The reference links:
https://www.petrolsteel.com/Semiconductor-Pressure-Reducer.html
https://www.petrolsteel.com/ASME-BPE-A270-Biopharma-Valves.html