PETROL STEEL CO, LTD is a leading manufacturer and stockist of Nuclear Pipe P280GH in China.

The following technical details are within our production capacity.
Specification: RCCM, NF, ASME, HAF, SGN;
Applications: nuclear plant pipe bending, nuclear power plant pipeline, nuclear bends, Thick Wall pipe, nuclear flange pipe fitting, NRC pipeline, Nuclear Regulatory Commission Piping, pressurized water reactor pipe, PWR pipeline, etc.
Size Range: φ16-φ1219 x 0.6-150mm;
standard RCC-M M1151, materials: TUE250B, TU42C, TU48C, P265GH, P280GH;
For specification of ASME SA-335/SA-335M, Materials: P11, P22, P36, P91;
The specification GB 24512.1 and GB 24512.2, Materials : HD245, HD245Cr, HD265, HD265Cr, HD280, HD280Cr, HD12Cr2Mo, HD15Ni1MnMoNbCu;
Standard ASME SA-106/SA-106M, materials: SA106B (Control Cr Composition ), 20 (Control Cr composition ).
SR EN 10222 fitting flange, 13MnNi6-3 Flange, EN 10253-4 Gr.X2CrNi19-11 fitting, EN 10253-4 Gr.X2CrNiMo17-12-2 fitting, 03X17H14M2 fitting, EN 10253 Gr.X2CrNi19-11, EN 10253 Gr.X2CrNiMo17-12-2, EN 10222 13MnNi6-3, ASTM A403 WP UNS S31254, etc.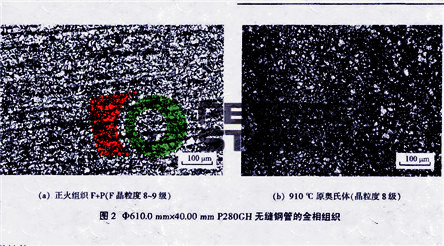 The Application of Alloy Steel Pipe P280GH:
It is widely used in nuclear power plants, nuclear island, and it is completely satisfactory to the RCC-M specified requirement in terms of chemical composition and mechanical property and the need for Carbon Manganese steel seamless pipes to be used in the steam system and nuclear auxiliary system of the nuclear power plant with the pressurized-water reactor. The super austenitic stainless steel pipe UNS N08367 was successfully developed for CAP-1400-China Advanced Passive Pressurized Water Reactor 1400 MW instead of the imported welded pipe.
The standard RCC-M standard M1131 includes the material EN10028-2 P355GH (high-temperature alloy steel ).
EN10028-2 P265GH (high-pressure application ) standard and EN10216-2 (high-pressure steel pipe ) both have good mechanical properties, weldability, cold & hot processing features, and similar to Chinese power generation materials: HD245, HD245Cr, HD265, HD265Cr or GB713 Q245R steel pipe.
For EN10222-2 P280GH ( Forged Steel Pipe for high-pressure use ), the content Mn range is between P355GH and P265GH.
P280GH chemical composition is similar to GB standard HD280, HD280Cr, and JB472616Mn seamless steel tubes for nuclear power plants.

The materials for medium and higher temperature application: ASTM / ASME A234: WPB, WPC, WP1, WP11, WP12, WP5, WP22, WP9, WP91;

EN 10216-2: P195GH, P235GH, P265GH, 20MnNb6, 16Mo3, 8MoB5, 14MoV63, 10CrMo5, 13CrMo4-5, 10CrMo9-10, 15NiCuMoNb5-6-4, X11CrMo5;
X11CrMo9-1, X10CrMoVNb9-1, X10CrWMoVNb9-2, X20CrMoV11-1, EN 10253-1 EN 10253-2;

RCC-M: CL2, CL3, NC grades P265GH, P280GH, P295GH, P355NH, TU42C, AE250B1;
The materials with the high yield of pipeline and offshore.
ASTM A860/MSS-SP75: WPHY 42, WPHY 46, WPHY 52, WPHY 56, WPHY 60, WPHY 65, WPHY 70, WPHY 80 according to the standard of MSS-SP75;

EN 10208-2: L245NB, L290NB, L360NB, L415NB, L360QB, L415QB, L450QB, L485QB, L555QB, L360MB, L415MB, L450MB, L485MB;
API 5L X42, X46, X52, X60, X65, X70;

For low-temperature application:
ASTM / ASME A/SA 420: WPL6, WPL3. Socket welding fittings, flanges, and other custom-tailored forging parts as the drawings for any special applications.

Copper-nickel ASTM / ASME B/SB 466: UNS C 70600 (CuNi 90/10 ), UNS C 71500 (CuNi 70/30 ). ASTM / ASME B/SB363: WPT2, WPT12. ASTM / ASME B/SB 366: UNS N04400, UNS N06600, UNS N06625, UNS N08020, UNS N08800, UNS N08811, UNS N08825, UNS N10276, etc.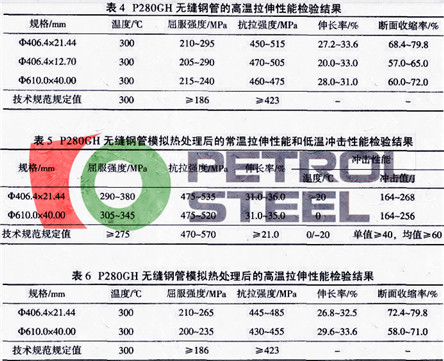 For more details of our Nuclear Pipe P280GH, please feel free to contact us.
Headquarter: A-4F, Vantone Center, A6, Chaowai St., Chaoyang Dist., Beijing, China.
Tel/Fax: +86 10 8599 9168
Whatsapp/Wechat: 0086 159 0035 7871

Email: sales@petrolsteel.com, jackywinn@foxmail.com
For more technical reference, pls. Click the following links:
https://www.petrolsteel.com/Large-Diameter-Steel-Pipe.html
https://www.petrolsteel.com/Seamless-Steel-Pipe-p.html
https://www.petrolsteel.com/Alloy-Steel-Pipe-p.html
https://www.petrolsteel.com/Forged-Steel-Pipe-p.html
https://www.petrolsteel.com/Forged-Pipe-Fitting-p.html
https://www.petrolsteel.com/High-Pressure-Flange-p.html
https://www.petrolsteel.com/High-Pressure-Pipe-Fitting-p.html