PETROL STEEL CO., LTD is a professional supplier of ultra-high pressure and ultra-high purity pipe fittings, flanges, and valves. Our company has introduced advanced technology and equipment from the USA and Germany and has a group of professional and excellent technical teams.
Our company focuses on the R&D and production of ultra-high pressure and ultra-high pure pipe fittings and valves and has successively overcome the technical problems of ultra-high pure raw materials for ultra-High Pressure Pipe Fittings, flanges, and valves, the technical problems of the ultra-precision polishing products and alloy steel gasket sealing of UCV Ultra Clean Valves. We reak the monopoly of foreign technology, and become the world's leader in the industry of ultra-high pressure and ultra-high purity pipe fittings and valves.
The ultra-high purity stainless steel and EP polishing process independently developed and manufactured by our company have been successfully used in Surface Mount Ultra Clean Valves such as Uα pressure reducing valves, Xα pressure reducing valves, Pα pressure reducing valves, diaphragm valves, EP pipes, UCR joints, and successfully manufactured to meet semiconductor Pipe fittings, flanges, and valves required for ultra-high purity gas transmission.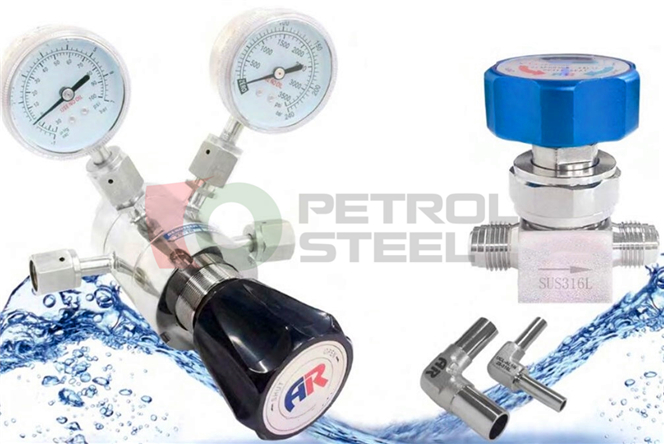 Semiconductor Pressure Reducers, Pressure Reducing Regulators, Ultra Pure Pressure Regulators, Automatic Pressure Regulators, Pressure-Reducing Samplers,
Liquid Pressure Reducing Regulators

Helium Leak Testing: SEMI-90120391B-STD SemI F1-96
Particle Composition Detection ( particulate matter ): ASTM F1394-92
Temperature Humidity Test for Electronic Components: SEMI-90120397B-STD

Product Features
Suitable for Gas cabinet, Suitable for GC VmB,VmP, Suitable for BSGS Bulk Specialty Gas Systems,
Hastelloy trim is optional
Each regulator is individually pressure tested, functional tested.
Helium leakage tested and particle tested.
Springless regulator,Low internal volume and surface area
Tied Diaphragm for added safety

Materials
The valves Wetted parts
The valves Body: 316L(VIm+VAR)
The valves Diaphragm: Hastelloy C-22
The valves Poppet: 316L / Hastelloy C-276
The valves Seat: PCTFe / Vespel

The valves non-wetted parts
The Knob: ABS
The Cap: 316L

Headquarter: A-4F, Vantone Center, A6, Chaowai St., Chaoyang Dist., Beijing, China.
Tel/Fax: +86 10 8599 9168
Whatsapp/Wechat: 0086 159 0035 7871
Email: sales@petrolsteel.com, jackywinn@foxmail.com
The reference link:
https://www.petrolsteel.com/Corrugated-Stainless-Steel-Tubing-ASME-BPE-A270-p.html
https://www.petrolsteel.com/ASME-BPE-A270-Biopharma-Valves-p.html