PETROL STEEL CO., LTD is a trusted Manufacturer and Supplier of ultra high-pressure valves, flanges, and tubing fittings. We offer a wide range of Ball Valve and Needle Valve products for high and ultra high-pressure applications. Up to and including 100,000 psig / 6,900 bar. Tailor 316 SS and super alloy valves. With 1 Year Warranty and Dedicated Support Teams.
Besides the high-temperature multi-port valves, we professionally manufacture the UHP flanges and fittings, including tube fittings, pipe fittings, weld fittings, check valves, relief valves, valve manifolds, etc.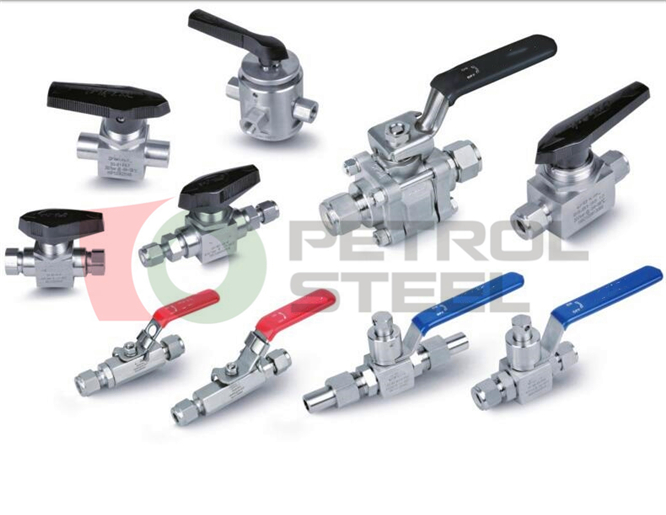 UHP Subsea Hydraulic Needle Valves, High-Pressure Marine Ball Valves, Globe Needle Valve, UHP Stainless steel needle valve, Needle Shutoff and Regulating Valves, Nickel-based superalloy needle valve, Air source ball valve, Instrument pipe fitting valve, Block and Bleed Valves, regulating valve 316L, high-temperature needle valve, high-pressure ball valves 60,000 psi stainless steel, multiport gauge valve, Integral Bonnet Bar Stock Needle Valves, High-Pressure Bar Needle Valves, stainless steel needle valve with lock-off handle, Five Way Valve Manifolds, 5 Valve Enclosure Manifolds, 3 valve manifolds, 3-piece Ball Valves, Two Way Valve Manifolds, Three-Way Valve Manifolds, High-Pressure Trunnion Ball Valves, Hex Bar Stock Ball Valves, Union Bonnet Needle Valves, Hexagonal Bar Stock Needle Valves, Forged Needle Valves, Non-Rotating-stem Needle Valves, Rising Plug Valves, Gauge Valves, and Instrument Manifolds, Bar Stock Instrument Ball Valves, ProcessValves and Fittings, PV Series Plug Valves, UHP Bellows Valves, stainless steel Relief Valves, HP Check valve.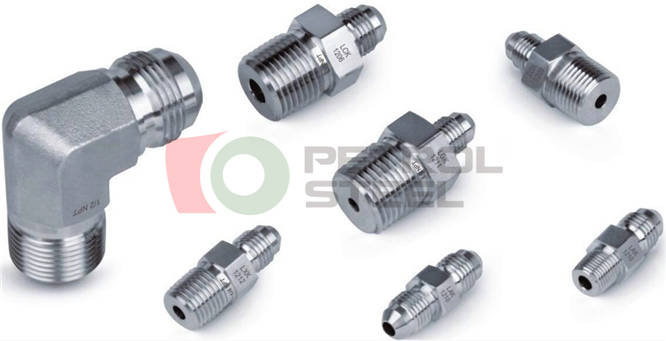 SAE 37°Flared Tube Fitting Female Connectors, Tube Fitting 45°Male Elbow, Tube Fitting Straight Male Connectors, Straight Female Connectors, Straight Bulkhead Female Connectors, Straight Unions, Straight Reducing Unions, Straight Bulkhead Unions, Straight Bulkhead Reducing Unions, Reducing Port Connectors, Positionable Male Elbows, Male Adapters, Weld Adapters, Flange Adapters, Hex Long Nipples, SAE 37°Flared Adjustable Male Branch Tee, SAE 37°Flared Male Branch Tee.
Hydraulic Fittings, Tube Fittings, Industrial Fittings, Hose Fittings, Pneumatic Fittings, Push to Connect Fittings, Flareless, and Bite Type Fittings, Tube Fabrication Equipment, Adapters, Compression Fittings, Face Seal Fittings, Pipe Fittings, Barbed Fittings, Flare Fittings, Grease Fittings.


Hydraulic Valves, Solenoid Valves, Cartridge Valves, Directional Control Valves, Flow Control Valves, Proportional Valves, Pressure Control Valves, Pressure Relief Valves, Valves Accessories / Kits, Shut Off Valves, Spool Valves, Manifolds, Miniature Valves, Ultra High Purity Valves, Metering Valves, Pilot Valves, Servo Valves, Angle Valves, PFA Valves, Throttle Valves, Fieldbus Industrial Networks, Shuttle Valves, Safety Valves, Electronic Valves, Double Block and Bleed Valves, Valve Terminals / Controls, Purge Valves, Counterbalance Valves, Logic Valves, Globe Valves, Butterfly Valves, Gate Valves, Plug Valves, Fitlok Grooved Fittings, Swagelok High-Pressure Valves Fittings, Ultra-High-Vacuum Flanges, Maximator Valves, Parker Hannifin Valves Fittings.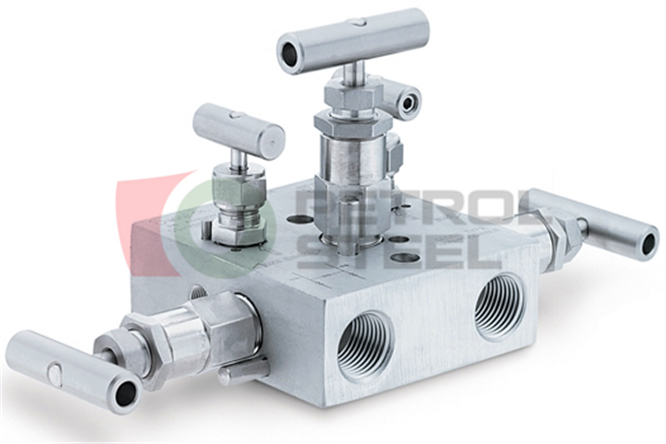 High Pressure (coned and threaded) type connections for Tubing size from 1/4" to 9/16".
Non-rotating stem and bar stock body design.
1. Easy to assemble and replace the packing
Metal-to-metal seating achieves ideal shut off, longer stem/seat service lifetime for abrasive flow, excellent corrosion resistance, and greater durability for repeated on/off cycles. Nylon is the standard packing material, RPTFE glass and Graphite is also available. Extend stuffing box valves with Graphite can be operated to 1200°F (649°C).
2. The material of the packing gland and stem sleeve have been selected to achieve reduced handle torque and extended thread cycle life.
3. The material of the body is 316 SS, The material of valve stem is 17-4PH SS.
4. Options for Vee or Regulating stem tips.
5. The locking device of the packing gland is reliable.
6. Five flow patterns are available.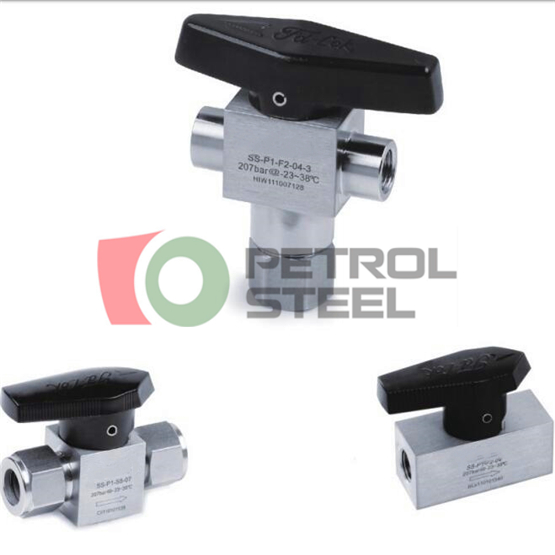 Tube O.D.: 1/4", 3/8", 9/16"
Orifice: 0.062" (1.57mm) and 0.078" (1.98mm)
Rated Cv: 0.08, 0.09, 0.14
Pressure @ Room Temperature 60,000 psig (4137 bar)

Notes:
1. The value of Cv shown is for a 2-way straight valve pattern.
The value of Cv for 2-way angle pattern will be an increase of about 50 (Base on water)
2. Extreme Temperatures
Nylon is the standard packing material for PESCO Needle Valve; RPTFE glass, Graphite, and Extend stuffing box valve with graphite

also available.
Normal Needle valve with Nylon packing can be operated to 230°F (110°C).
Normal Needle valve with RPTFE glass packing can be operated to 600°F (316°C).
Normal Needle valve with Graphite packing can be operated to 800°F (427°C).
Extend stuffing box valves with Graphite can be operated to 1200°F (649°C).
Flow Data at 1OO°F (38°C).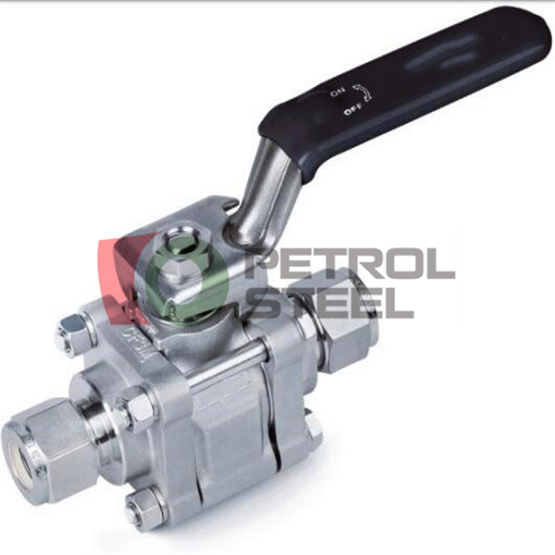 Ball Valves BSPP FB FAV or Equal 3/4" Class 15K female SS Equal Tee Female, BSP 3/4" 15K SS ISO 7RP Elbow 90°Female, BSP 3/4" 15K SS ISO 7RP, Pipe Nipple POE BSPP 3/4" 150mm Plain one end thread other End 15K A182 F316 316L, Hex Pipe Nipple BSP 3/4" 150mm 15K A182 F316 316L ISO 7 threaded, Adaptor HNF8-MM9 1/2" NPT Female 9/16" MP Male SS, Adaptor Spir Star 9/16" MP Male G 1/4 BSPP M 20K SS.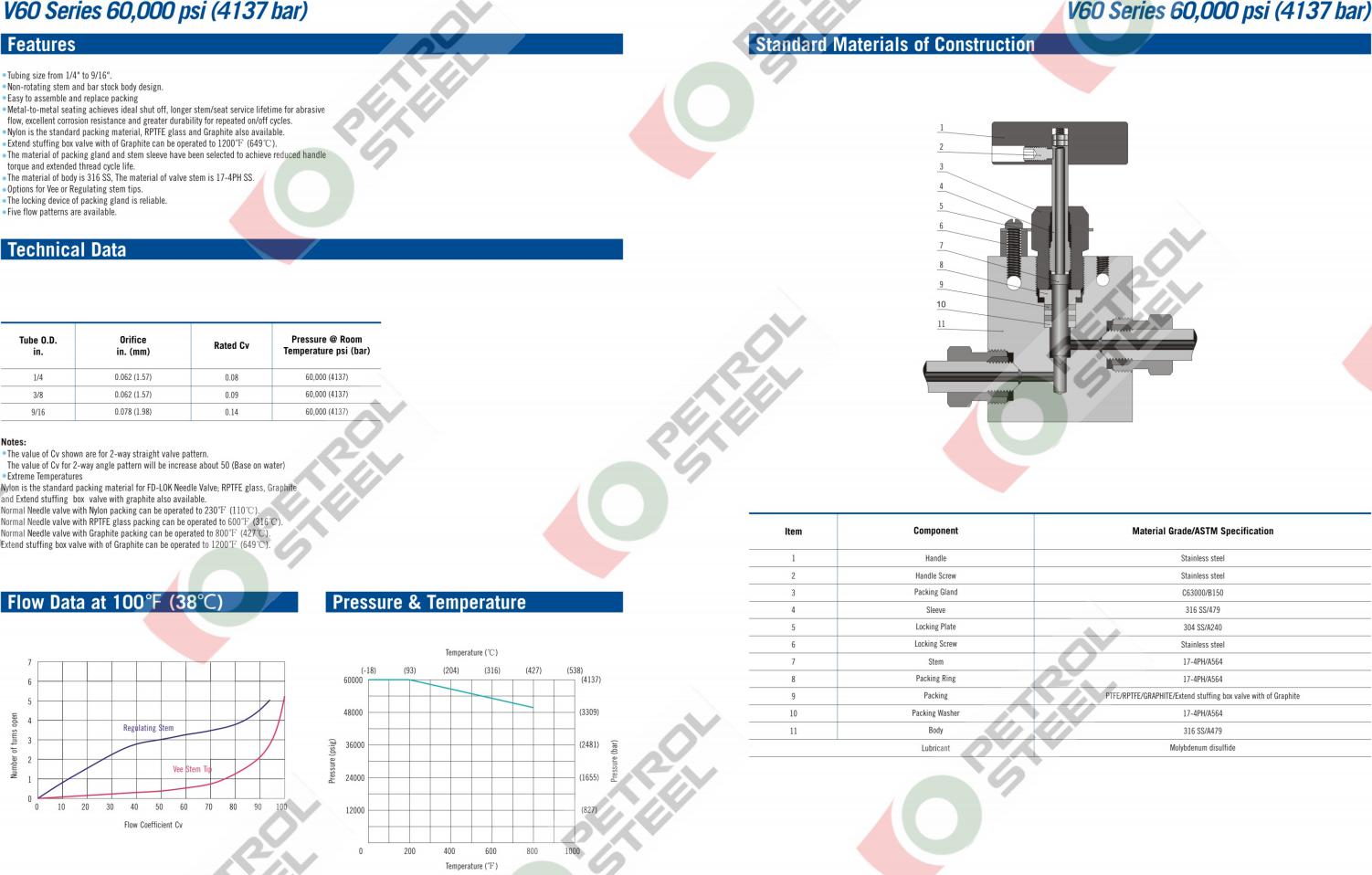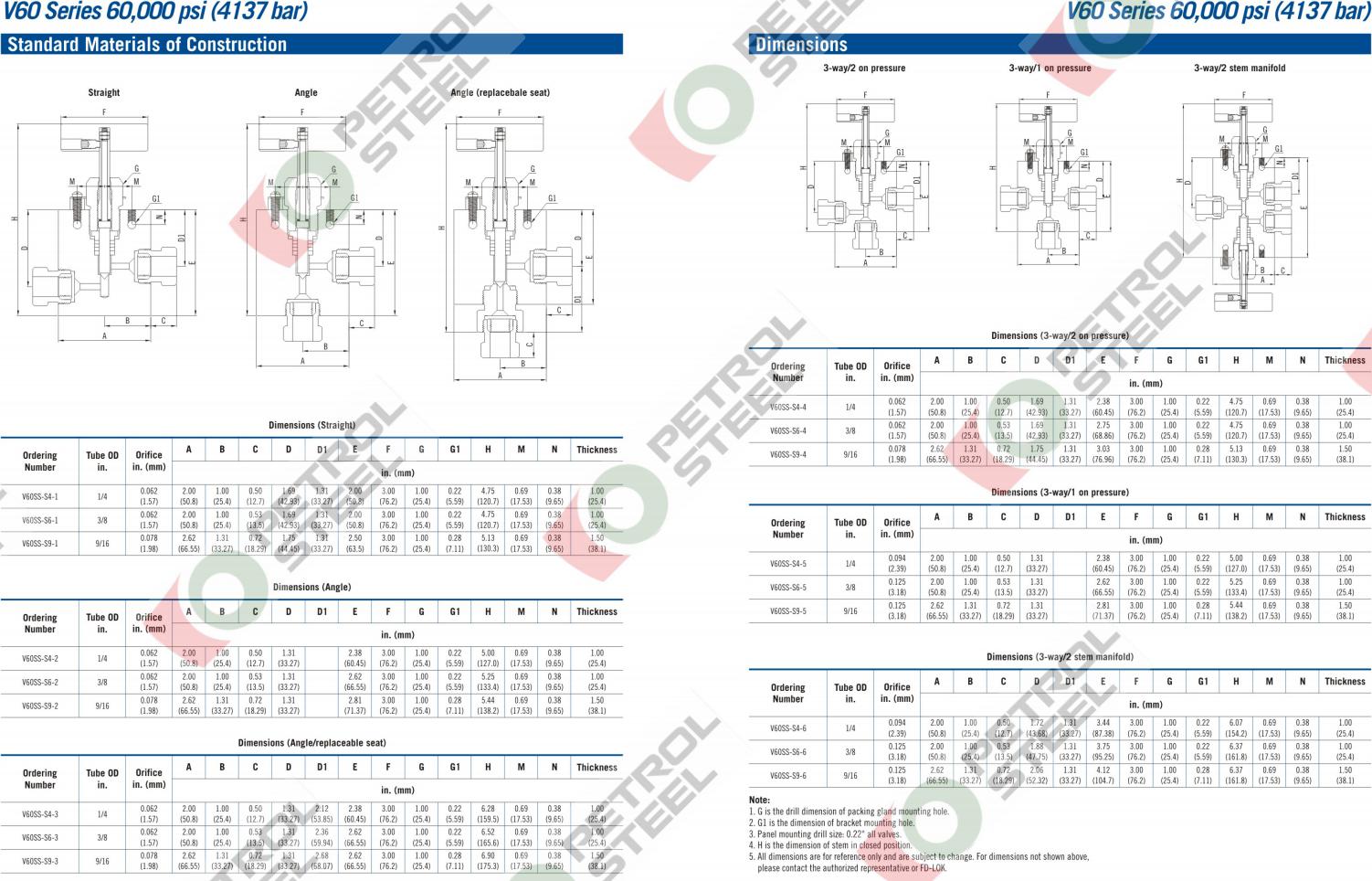 Headquarter: A-4F, Vantone Center, A6, Chaowai St., Chaoyang Dist., Beijing, China.
Tel/Fax: +86 10 8599 9168
Whatsapp/Wechat: 0086 159 0035 7871
Email: sales@petrolsteel.com, jackywinn@foxmail.com