PETROL STEEL CO., LTD is a leading manufacturer and stockist of SCM440 Steel 42CrMo4 Alloy bars pipes from China.
In our factory, the Seamless Steel Pipe size range:
OD 0.39"-47"(10mm-1,200mm)
WT SCH10-SCH160 (1mm-80mm)
L 1-14meters
Heat Treatment Conditions:
Annealing: 830℃ with Furnace Cooling
Normalization: 830-880℃ with Air Cooling
Hardening: 830-880℃ by Oil Cooling
Tempering: 530-630℃ by Rapid Cooling
Heat Treating Conditions Revise Criterions:
Ac: 750-790℃
Ar: 740-690℃
Ms: 310℃
Mechanical Properties:
Tensile strength (kgf/mm²): ≥100
Yield strength (kgf/mm²): ≥85
Elongation (%): ≥12
Cross section reduction rate (%): ≥45
Impact value (J/cm2): ≥6
Hardness (Hb): 285-352
Steel Materials In Our Capacity:
wrought pipe approval by caterpillar, wrought steel pipe bend, wrought pipe fittings, wrought tube, wrought flange, quenched tempered wrought steel pipe AISI 4130;
JIS G4104 SCM440, DIN 42CrMo4, W-Nr.1.7225, ASTM 4140, AISI 4140, SAE 4140, GOST4543 38XM, BS 708M40, BS 708A42, BS 709M40, NF 42CD4;
JIS SCM435, 35CrMo, DIN 34CrMo4, W-Nr.1.7220, ASTM 4135 AISI 4135 SAE 4135,BS 708A37, NF 35CD4, GOST 35XM;
30CrMo, JIS SCM430, DIN 34CrMo4, W-Nr.1.7220, ASTM 4130, AISI 4130, SAE 4130, NF 30CD4, GOST 30XM;
20CrMo, JIS G4104 SCM420, NF 18CD4, NF 20CD4, DIN 25CrMo4, W-Nr.1.7218, GOST 20XM;
DIN 17210 20Cr4, DIN 17210 41Cr4, GOST 4543 20X, GOST4543 40X, JIS G4104 SCr420, JIS G4104 SCr440;
ASTM A29M 5120, ASTM A29M 5140, EN 10083 18C3, EN 10083 42C4, BS970 527A20, BS970 530A40, BS970 530M40, 27SiMn, GOST 4543 27GS.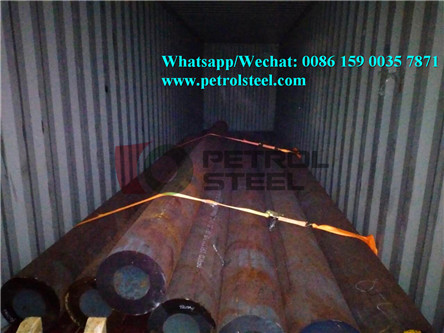 Steel 45 pipe
S45C pipes
SAE 1045 steel pipes
The types of ASTM A519 mechanical tubes SAE 4130
SAE 4130 Alloy Steel Pipes
SAE 4140 alloy steel tubes
SAE 4150 steel pipe
SAE 4340 alloy steel
ASTM A519 SAE 4140 seamless pipe
ASTM A519 SAE 4140 seamless tube
20Cr steel pipes for piston pin,
SAE1045 steel Chemical Composition,
27SiMn steel Supplier,
AISI SAE 5120 Alloy Steel tube Mechanical Properties,
GOST 20X alloy steel Chemical Composition,
527M20 SCr220 SCr240 Chromium
steel 18C3 527A19 Pipe,
SCr440 Steel 1.7035,
DIN 41Cr4, AISI 5140 pipe
forged 34CrMo4 pipe,
forged DIN 1.7220 tubing,
AISI SAE 4135 Tube China,
BS 708 A37 forged bar,NF 35CD4 forged holes,
GOST 35XM forged pipe,
forged SCM440 alloy tube,
Chrome-molybdenum 42CrMo4 alloy tube
DIN 1.7225,AISI
BS 708M40 steel pipe
Honed tubes
alloy steel for hydraulic cylinders
steel pipes Cylinder Liners
alloy pipes for cylinder Sleeves
tubes for shaft sleeve
Chrome Rod
alloy steel for crankshaft Component
alloy tubi for excavators,
steel pipes for cranes,
alloy tubular with Special technique
tuberia for a transport engineering
steel tubing for the machine tools industry
alloy steel tubing for shipbuilding
alloy steel for driveline systems
steel tubes for automotive
steel pipes for agriculture equipment
Grinding alloy steel tubes
To get the exact quotations of
SCM440 Steel 42CrMo4 Alloy bars pipes
and for more details of Mechanical Properties and Chemical Composition, please contact us freely, you will have instant feedback.
Tel/Fax: +86 10 8599 9168
Cel/Whatsapp/Wechat: 0086 159 0035 7871
Email:
sales@petrolsteel.com
,
jackywinn@foxmail.com
https://www.petrolsteel.com
https://www.petrolsteel.com/SCM440-Steel-42CrMo4-Alloy-p.html
Related links:
https://www.petrolsteel.com/Forged-Steel-Pipe-p.html
https://www.petrolsteel.com/Seamless-Steel-Pipe-p.html
https://www.petrolsteel.com/Forged-Pipe-Fitting-p.html
https://www.petrolsteel.com/High-Pressure-Pipe-Fitting-p.html
https://www.petrolsteel.com/High-Pressure-Flange-p.html