Higher, Faster and Safer are the key features of PESCO Smart Spider Lift Power Ascender.
PETROL STEEL CO., LTD China is specialized in the lifting equipment manufacturing, Products include PESCO Smart Spider Lift Power Ascender, manual chain hoists, electric chain hoists, battery-powered ascenders, safety rescue device and etc., and widely used for mobile stage, theaters, stadium, conference halls, exhibitions, studios, TV stations, workshops, wind energy production, display, equipment rental and distribution. PESCO always provides the best solutions of rigging systems as per customers' requests and reliable qualified products.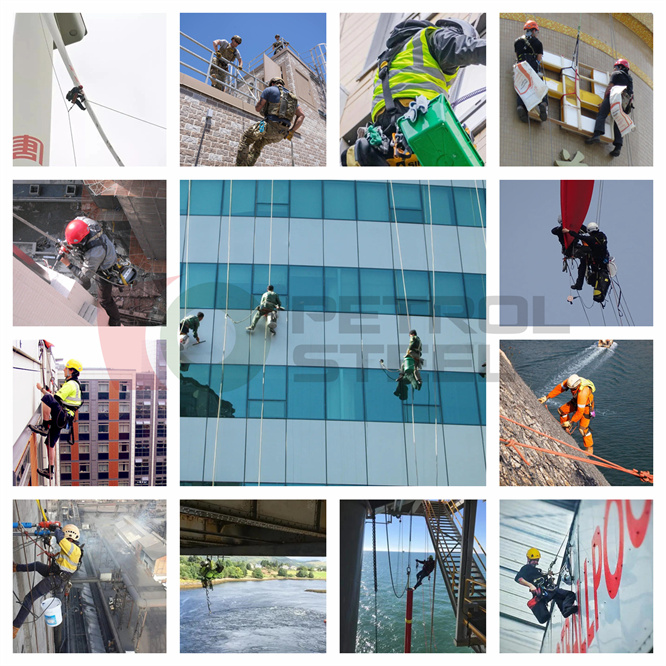 We served lots of in and abroad big events, such as Ultra Music Festival, Shenzhen New Year festival concerts, sports competitions in stadiums & exhibitions. Awarded lots of honors. We are looking forward to better cooperation with partners.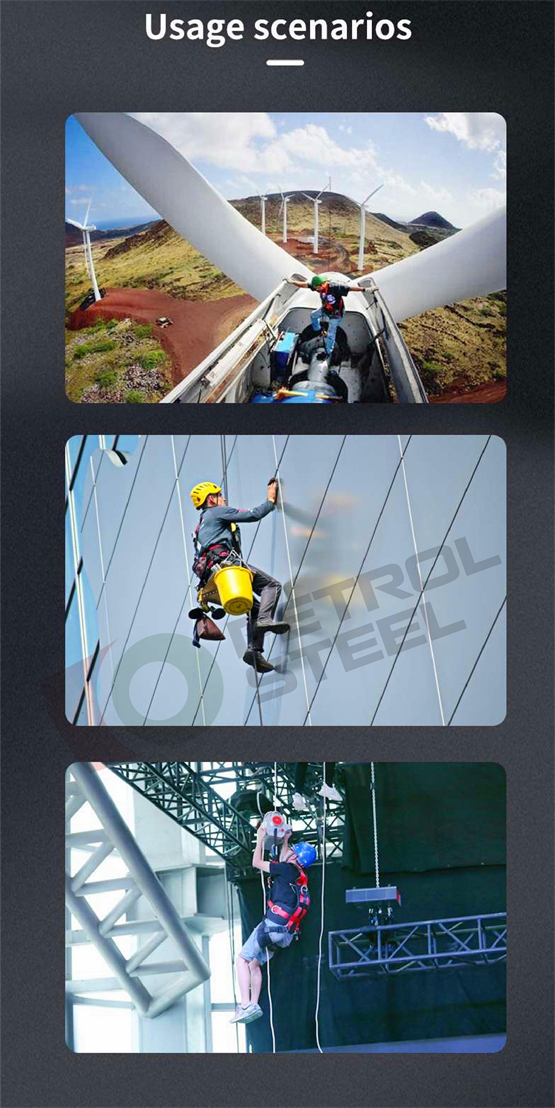 PESCO Smart Spider Lift Power Ascender can load single-person capacity and are used in vertical movement tactical situations.
PESCO Smart Spider Power Lift Ascenders can supply Safe and Fast Moving Assistance for Airborne Forces or Special Forces for rappelling from helicopters or getting across rivers easily. Our ascenders can supply Safe and Fast-Moving Assistance for Building Climbing, Search and Rescue, Fire Escape, Mountaineering, Marine, Height Maintenance, Army, Tower areas, etc. PESCO Smart Spider Lift Power Ascender can be used as a special and portable elevator lift, which can help lift and remove the goods vertically or horizontally. Our machines can supply Safe and Fast Moving Assistance for the Fire speed escape rope Ascenders. And can also supply Safe and Fast Moving Assistance for Helicopter Rope Suspension for rappelling fast-roping descenders.


PESCO Smart Spider Lift Power Ascender
with multiple core functions: high torque, App control, hand up stop, fast charge, rich scenes, super high face value.
A hot-swappable battery to keep you moving all-day,
A thumbwheel-trigger speed-control for easy operation,
A secondary lock for hands-free work,
Integration with a wide range of climbing technology,
Manual and wireless APP multiple modes of operation, more convenient. Suitable for wind power, high-altitude operation, rescue, outdoor, munitions, firefighting, etc.

Features of
PESCO Smart Spider Lift Power Ascender
:
1. An easy & accessible powered ascender in the world today.
2. Versatility functions: High Torque, Mobile APP remote, Stop working without finger remote, Fast charging, Super high appearance. 3,Aerospace light alloy material cover, herd-wearing & durable lifeless dimension, less weight.
4. R&D energy block, with input/output protection, low voltage protection, low/high temperature protection functions.
5. Digital motor with epicyclic gearing transmission mechanism, low calorific value, accuracy speed control.
6. Speed control handle, with anti-fall safety joint. Fast rope changing system, smart spider could be transported separately. 7,LCD screen, with WI-FI display, battery capacity display, with emergency stop button. 8, Manual release button. Operator could lift down manually with no battery power.
Applications of
PESCO Smart Spider Lift Power Ascender
: Oil/Gas Industry Wind turbine channel, Telecommunication maintenance, Forest tree treatment, Entertainment rigging Construction, Property maintenance, SPRAT IRATA rope access confined space, Outdoor sports, etc.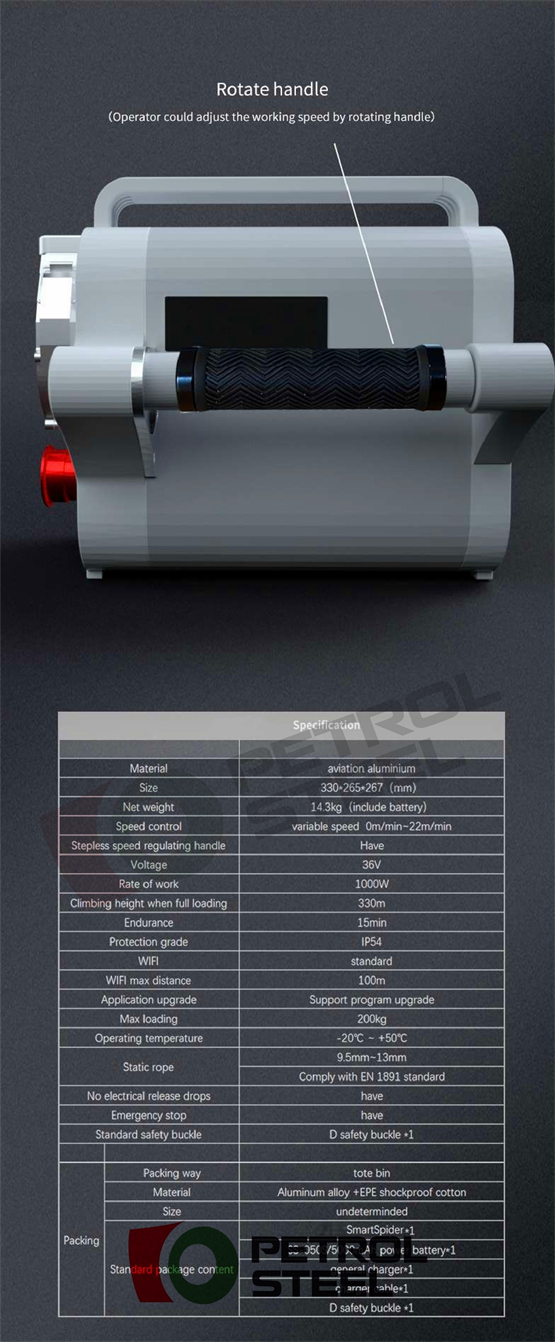 Specifications of PESCO Smart Spider Lift Power Ascender:
Name: Name:PESCO Smart Spider Lift Power Ascender
Material: aviation aluminum
Size: 330*265*267 (mm)
Net weight: 14.3kg (include battery)
Speed control: variable speed Om/min-22m/min
Stepless speed regulating handle: Have
Voltage: 36V
Rate of work: 100OW
Climbing height when fl loading: 330m
Endurance: 15min
Protection grade: IP54
WIFI: standard
WIFI max distance: 100m
Application upgrade: Support program upgrade
Max loading: 200kg
Operating temperature: -20℃-+50℃
Static rope: 9.5mm-13mm and Comply with EN 1891 standard
No electrical release drops: have
Emergency stop: have
Standard safety buckle: D safety buckle *1
Packing way: tote bin
Material: Aluminum alloy +EPE shockproof cotton
Size: undetermined
Standard package content:
PESCO Smart Spider*1,
SS-050S/5000mAh power battery*1, General charger*l, Charger cable*1, D safety buckle*1.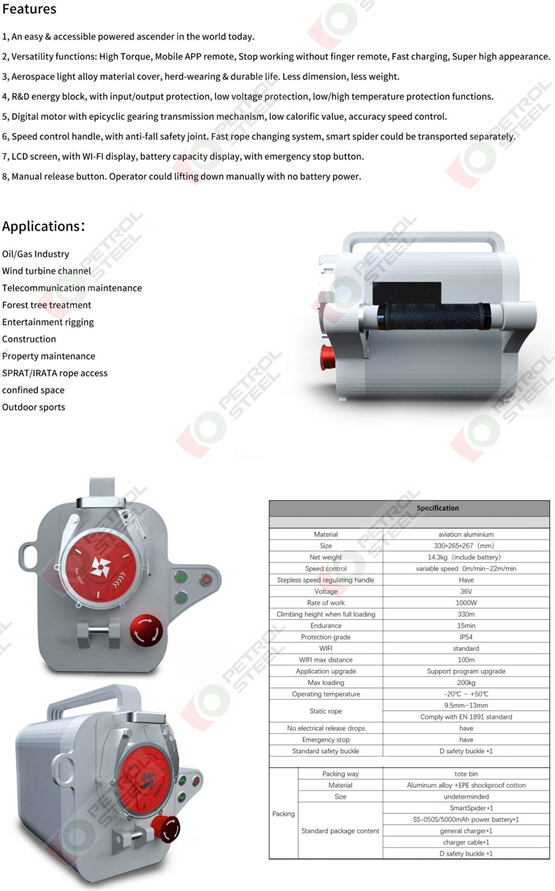 For more types and choices on the PESCO Smart Spider Lift Power Ascender, please send us the inquiry, you will get a quick reply soon.

Headquarter: A-4F, Vantone Center, A6, Chaowai St., Chaoyang Dist., Beijing, China.
Tel/Fax: +86 10 8599 9168
Whatsapp/Wechat: 0086 159 0035 7871
Email: sales@smart-spider.com, jackywinn@foxmail.com

The reference technical links of the PESCO Smart Spider Lift Power Ascender:
https://www.smart-spider.com/product/pesco-smart-spider-lift-power-ascender/
https://www.smart-spider.com/product/pesco-rope-access-power-ascender-descender-device/