BEIJING VANS TECH CO., LTD. is a professional supplier of Synguard Nitrile Exam Gloves from China. It is a subsidiary company of PETROL STEEL CO., LTD. It was registered in 2011 year in Beijing, China. Mainly focus on Medical and Surgical supplies including Synguard Nitrile Exam Gloves, Synthetic Vinyl Exam Gloves, Medical Hand Sanitizer, Surgical Mask, KN95 MASK, 1ply 2ply 3ply 4 ply face mask, dust mask, meltblown face mask, clip caps, doctor caps, nurse caps, shove cover, bedsheet, isolation gowns, surgical gowns, lab coat, coveralls, etc. We also manufacture following to your specification and provide OEM and ODM service.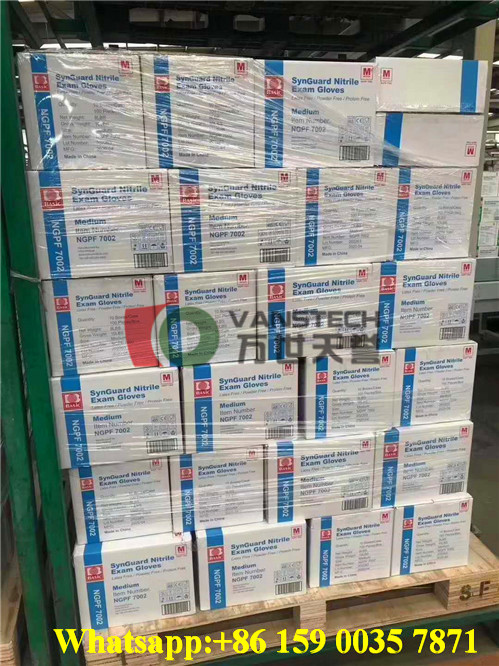 Synguard Nitrile Exam Gloves
Features
No latex Protein to cause allergy
Excellent Softness and Wearing Fitness
Undifferentiated Shelf Life As Normal Gloves
Well Suitable For High Cleanliness Industry Like Electronic, Food Service, etc.
Quality Standards
Complies with EN 455 and EN 374
Complies with ASTM D6319 (USA Related Product)
Complies with ASTM F1671
FDA 510(K) Available
Approved to use with Chemotherapy Drugs
Color: Blue, White, Violet Blue, Black,
Material: Nitrile Butadiene Rubber (NBR)
Midieum Size,
Gross Weight 4.5kgs, Volume 0.02CBM,
Package:
100 Pcs/Box, 10 Box/Case, 1,000 Pcs/Case
For any inquiry of the Nitrile Exam Gloves, please feel free to contact us timely.
Headquarter: A-4F, Vantone Center, A6, Chaowai St., Chaoyang Dist., Beijing, China.
Tel/Fax: +86 10 8599 9168
Whatsapp/Wechat: 0086 159 0035 7871
Email: sales@petrolsteel.com, jackywinn@foxmail.com